This past weekend my baby turned 1. I avoided thinking about it as long as I could , but at a certain point I had to accept that my baby is getting to be a toddler and let him have his day. Hubby's mom was up from out of state, so the family would all be at the house, and that alone is a full house.  Just hubby's family made a house of 9 little ones and 8 adults. We kept the party limited as we expected to need to be indoors, and I'm not sure about you, but that basically maxes out my home especially having that many kids running around. However, we had a great surprise in the form of an 80 degree sunshiny day.
Thinking back it turned out great, but I really do owe it all to hubby. You see, I decorate, and plan, and fuss over the minor details. He on the other hand implements.  He's the one that remembers the practical stuff; the things I wouldn't use personally and therefore don't think to buy, pickles, tomatoes, extra chips. I also don't seem to understand how much food kids eat. The family gathered at our house the night prior too, the chips were eaten, the veggies were eaten, dinner was eaten, and popcorn was eaten. I was out of ideas, and one of my snackers was gluten and dairy free. I was in a bit of a panic for the next day. All I had planned was hot dogs, popcorn, and cracker jacks. Hubby to the rescue! He picked up all the practical stuff and no one was hungry at the end of the night.
And since he took care of the real party needs, I got to set up cute baseball theme decorations. Baseball invitations (sample pic below) which turned out perfect!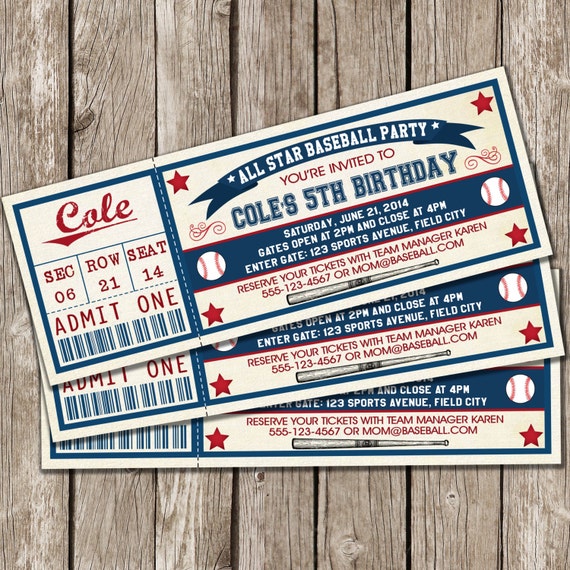 I ordered those here. Baseball toddler photos curtesy of me. Thank you. Baseball baby smash cake, I'm not a cake decorator, but I think it turned out pretty good. Baseball themed party supply table with a couple pictures of the guest of honor. And my awesome sister hooked us up with slip and slide baseball.
We couldn't have asked for a better family evening on the farm.